Gain Strength, Skill, and Fitness With Our Intense Muay Thai Kickboxing Courses!
Muay Thai is one of Top Level Gym's most fitness-intensive courses. Focusing on the heavily-developed kickboxing styles of the art, our Muay Thai programs put an emphasis on fitness, education, and, most importantly, fun! By training your entire body in a fast-paced, explosive workout, our instructors will guide you through the process of mastering powerful successive strikes that can easily disable attackers by punishing vital points and wearing down their stamina. At Top Level Gym, we guarantee a life-changing journey through the health and self-defense benefits of Muay Thai! Keep reading below to learn more!
Get a peek at our schedule by filling out the short form on your screen!
Intense Striking Action with Kickboxing!
A workout from a kickboxing routine is one of the best you'll find in Indianapolis. Not only that, but Top Level Gym employs some of the best instructors in the area. With our kickboxing lessons, you will see a number of benefits, including:
Increased Strength
Muscle Development
Intense Body Conditioning
Knowledge of Advanced Striking Techniques
By training your body to become more powerful and resilient, you will also train your Muay Thai skills in turn. This approach is a wholesale improvement on not just your physical health, but your ability to dish out devastating blows and develop competition-level techniques that you will carry for a lifetime!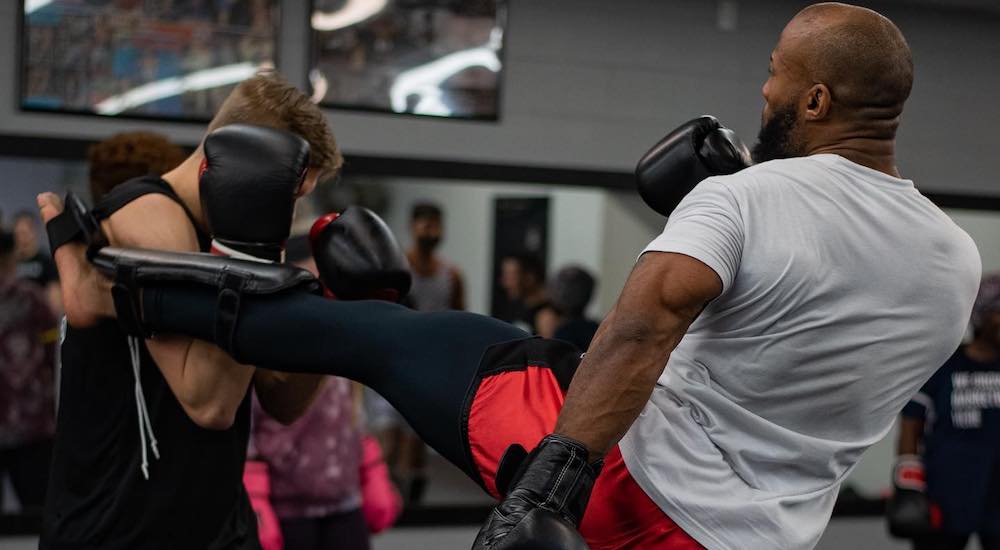 Training to Suit Your Needs
Our Muay Thai Kickboxing course is offered exclusively to adults. As such, Top Level Gym is dedicated to working with you to find a curriculum that suits your needs and works with your time restrictions, such as school, family obligations, appointments or meetings.
Our focus is on giving our students the Muay Thai training they need to feel safe, confident, healthy, and proud. Our school is prepared to work with any prospective trainees to find out how to best master their Muay Thai conditioning experience. So join today, and find out why so many people have chosen Top Level Gym as the number one Muay Thai instructor in the Indianapolis area!